Special events from 2019
Posted on 8th April 2020
During this difficult time we have taken the decision to cancel a number of our 2020 events, with this in mind we thought it would be nice to go back to 2019 and share some of the best bits from some of our events.
Our first event of the year is our Visiting Loco weekend held over the first bank holiday weekend in May. We always welcome a wide variety of visiting locos that come and run the railway alongside some of our home fleet for 2 days.
We like to put on a show for our visitors and public alike so with varied and intensive service, you will often see double heading, freight trains and trains moving in directions around the railway that you wouldn't normally see.
In 2019 we welcomed no fewer than 8 visiting locos for the weekend and we had a great weekend with the weather also being kind.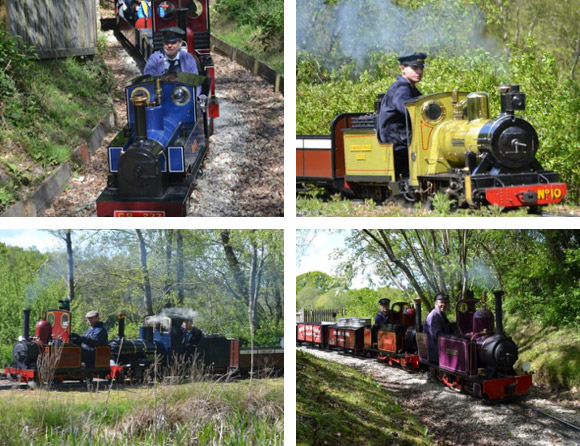 As we move into June, everybody involved in the railway always looks forward to our Grand Summer Gala, our biggest event of the year. This weekend isn't just about the railway either, we welcome a large number of visitors to stay for the weekend who bring along miniature traction engines, stationary engines, classic cars, classic tractors and a variety of other exhibits. Most of this is displayed down on the picnic area by Lakeside station and it provides a lovely setting for people to exhibit their machines.
A highlight for our miniature traction engine owners are the 3 parades they do on both days of the event where they parade in line from Kingsmere Station to Lakeside, across the railway crossing and round the lake. This really draws a crowd as the public love to see all the different sizes and quirks all of the traction engines have.
The railway drums up the competitive nature of our drivers during this event as on the Sunday prior to a railway parade we crown 'best prepared engine'. Judged independently by our visitors they award this title to the cleanest engine on the Sunday morning. The winner in 2019 was Aurora.
July 2019 saw us combine for the first time our railway open weekend and the model railway weekend. It proved to be a great success with the public loving both being to see behind the scenes of the railway and the excellent model railways on display.
During this event we always open up the railway in ways that we wouldnt normally, the public have access to our workshops, turntable and yard areas and signal boxes. This gives them a real insight into what the railway does behind the scenes and allows our younger visitors their first try and blowing the whistle of a steam engine! Often a very popular and noisy activity!
We also offer our driver for a fiver over this weekend, this is where the general public over a certain age can pay £5 to drive one of our engines up and down the sidings a couple of times. All money that we collect is donated to our charity of choice which in 2019 was the Air Ambulance.
Our plan is to keep these two events combined as they really worked well together and we look forward to being able to do so again in 2021.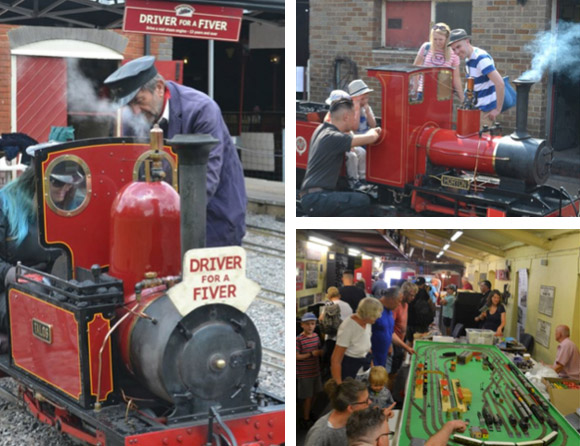 Back to all posts