Enjoy a ride on an authentic steam train around Moors Valley Country Park.
The 7 ¼" gauge narrow gauge railway provides a picturesque journey of just over a mile. Starting at Kingsmere Station, travel along the banks of the Moors Lake, a double loop around the play area incorporating three tunnels, inclines and a bridge before stopping at Lakeside Station.
Lakeside Station gives the opportunity to visit the children's play areas, have a picnic and feed the ducks. Our kiosk offers cold drinks, sweets and locally produced New Forest Ice Cream.
From Lakeside you travel back alongside the lake, through a fourth tunnel before going through our goods yard and arriving back at Kingsmere Station.
At Kingsmere Station you can visit the Gift Shop, which stocks a wide range of souvenirs and a large selection of model railway goods. Our Station Buffet offers hot and cold drinks, sandwiches, snacks and New Forest Ice Cream.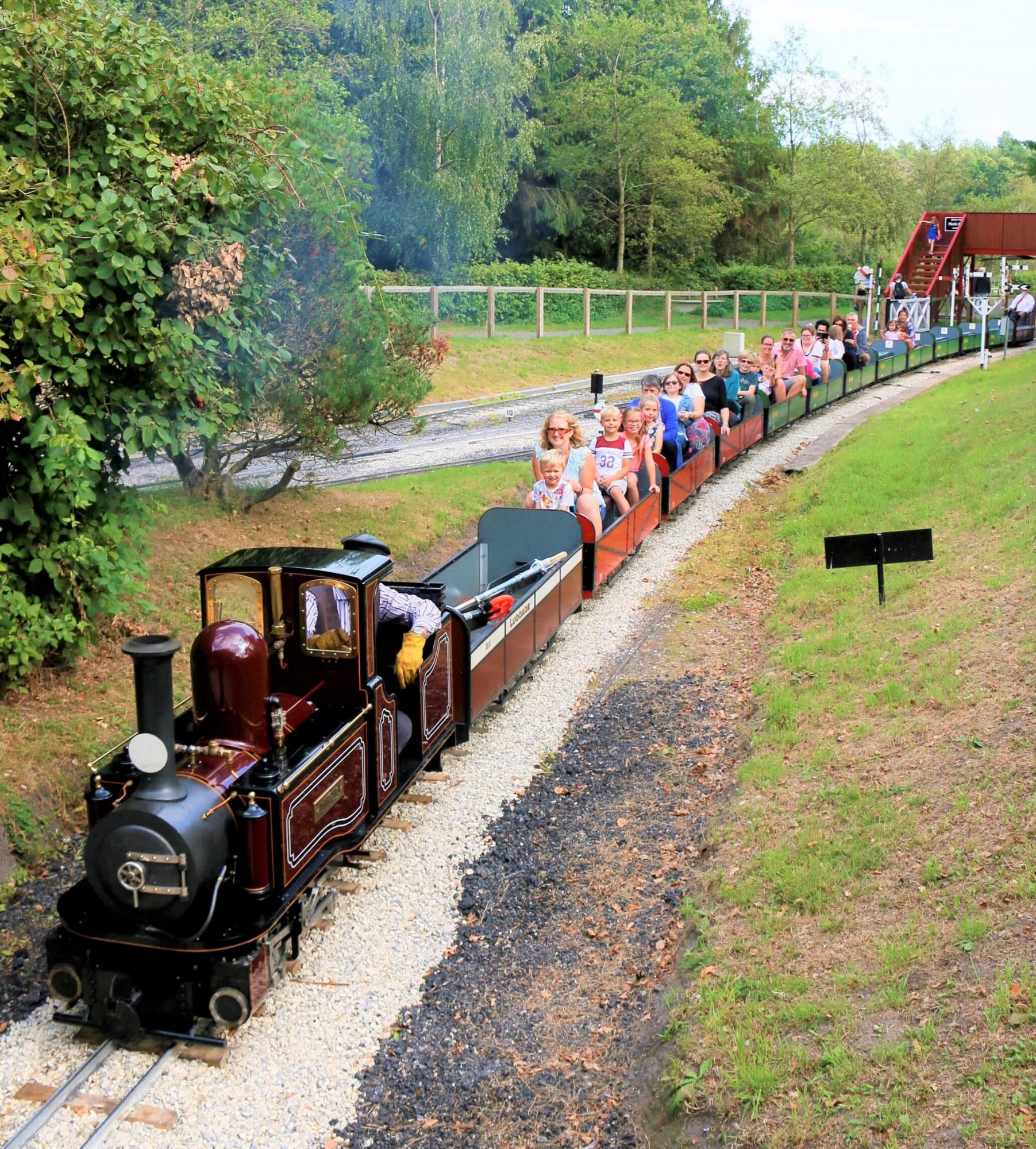 Fun For All The Family
A Little Bit About Us
For the past 35 years, the railway has been run by an extended family team, now employing 20 staff and supported by a (mostly) local and dedicated group of volunteers. We pride ourselves on providing an authentic steam railway experience for all generations – families, friends, school groups and railway enthusiasts.
Over the years, the railway has developed and expanded/evolved, as has its popularity, which continues to grow.
We are proud to house over 20 steam locomotives and 2 diesels that have all been constructed at the railway. Our pioneering reputation has seen us develop the style and sizes of our locomotives from the original Tinkerbell 0-4-2 tank engine design to larger 4-6-2 Pacific Class locomotives.
Passengers, of course, make the railway, and our fleet of 45 passenger coaches are in use all year round carrying over 100,000 passengers around the country park.
There is no better way to enjoy some of the sights and sounds of Moors Valley Country Park than by train so for a unique experience, come and experience our unique railway for yourselves and make memories that will last a lifetime.