Autumn Gala 2021
Posted on 30th August 2021
After nearly 18 months of not being able to hold any events we are extremely excited to announce that our Autumn Gala will go ahead as planned over the weekend of 11th and 12th of September.
The weekend will be full of activity with an intensive service planned that will include, passenger trains, freight trains and other demonstration trains that wouldn't normally be on display. We plan to have eight engines in steam on both days with a different eight in steam each day, all the more reason to make a weekend of it and visit us on both days.
It is possible to ride behind all eight with a Day Rover ticket and children can even take part in our Loco Challenge! Get your challenge sheet clipped with each engine and collect your prize from the Railway Shop when complete.
This is also an exciting weekend as it will see us reopening Kingsmere Station for first time since the COVID-19 pandemic.  It will mean that the Kingsmere Railway Shop will be open where you can buy tickets for the train and also look at our other gifts and treats that we have on offer.
With Kingsmere reopening it means that all types of tickets will be available again from both Kingsmere and Lakeside Station. The option to buy a single journey ticket from either station will be back.If you join the train at Lakeside Station you will need to change trains at Kingsmere Station to either travel back to Lakeside for a return journey or finish your trip if you are on a single journey.
We will publish a locomotive roster next week so you will have a sneak peak of what to expect over the Gala weekend. We look forward to seeing you then.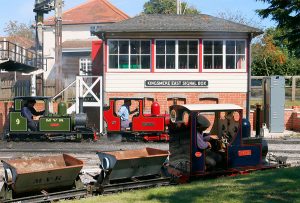 Back to all posts